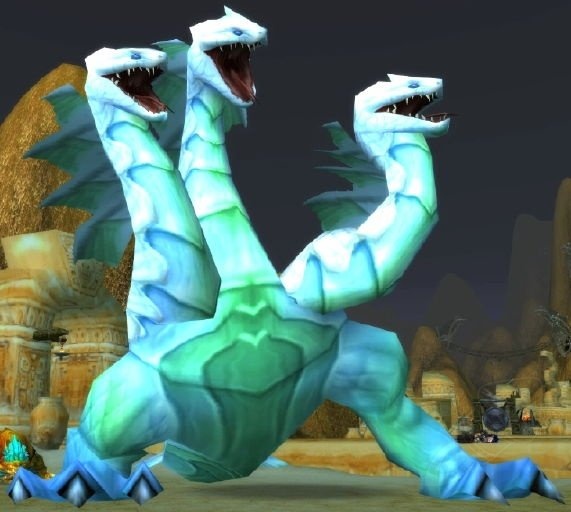 "He's so fierce that even his scales crackle with energy."
-Wizzle Brassbolts
Gahz'rilla
, who my calendar typos as Ghaz'rilla, was a hydra and favoured pet of the Old Gods. She slumbered beneath a sacred pool in Tanaris. The Sandfury Trolls, upon their arrival in the region, began to worship Gahz'rilla as a god, and constructed their city, Zul'Farrak, around the sacred pool where she dwelt. The trolls soon learned the dangers of waking the mighty hydra too frequently, as her hunger was insatiable when awoken. As a result, the means of awakening Gahz'rilla was a closely kept secret amongst the Sandfury, and used only when sacrificial victims were plentiful.
In order to summon Gahz'rilla, one had to hit ring a gong near the sacred pool. However, in order to properly ring the gong, one need the Mallet of Zul'Farrak. Curiously, the means to create the Mallet of Zul'Farrak was in The Hinterlands, basically on the other side of the planet from Zul'Farrak. Why the Amani trolls in Lordaeron possess the means to create the sacred mallet of the Sandfury (who are themselves descendents of the Gurubashi, the hated enemy of the Amani trolls), is unknown. Obtaining the Mallet of Zul'Farrak is no longer necessary for players to summon Gahz'rilla, although players can still obtain the mallet, which is now a pretty decent mace.
Despite the long travels necessary to obtain the Mallet of Zul'Farrak, adventurers still did so. At the request of the gnome, Wizzle Brassbolts, they killed Gahz'rilla and took one of her electrified scales and delivered it to him. Wizzle then used it to help power his car or something.
"The blessed beast Gahz'rilla, adored pet of the Old Gods, grows larger and stronger by the day... as does the Cult of Twilight's Hammer."
-Cho'gall
Gahz'rilla was restored to life by the Sandfury's hydromancer, Kulratha, and rose once more as
Kai'ju Gahz'rilla
. With Cho'gall's promises echoing in their ears, the Sandfury set to empowering Ghaz'rilla in preparation for aiding the Twilight's Hammer in their attacks on Stormwind and Thunderbluff. Before she could be unleashed on them, however, Alliance and Horde adventurers, led by King Varian Wrynn and Cairne Bloodhoof, led a counter-attack on Zul'Furrak, killing Gahz'rilla and Hydromancer Kulratha. With Gahz'rilla's defeat, Cho'gall saw no further use for the Sandfury trolls, and withdrew the support of the Twilight's Hammer, leaving Zul'Farrak to its fate.