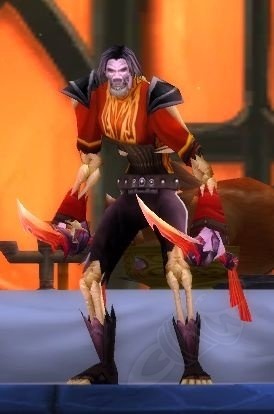 "Hmmm, unannounced visitors. Preparations must be made."
Moroes
serves as the steward of the tower of Karazhan, and served as Medivh's personal servant while he occupied the tower. Moroes was killed by Medivh when he was utterly consumed by madness, and was buried at Morgan's Plot alongside his master by Khadgar. Moroes, however, did not remain there for long, and eventually found himself back in the tower, performing his old duties, surrounded by ghostly echoes of previous occupants and visitors.
He did not like uninvited guests, and was often quite hostile to them. Even more when ten of them appeared together. He was likely killed by adventurers many times, but despite each death, Moroes would find himself restored once more.
Moroes, unlike many of Karazhan's other undead residents, is quite aware of his condition, and now seeks a means to permanently end his existence. He even once went so far as to travel to alternate past Draenor, where he visited and cleaned the Commander's inn. While unsuccessful, he did find a horribly acidic solution that would be useful for cleaning up scuff marks and blood stains left by adventures in Karazhan.