Many years ago, Lavarinth gifted me with a 2009 World of Warcraft daily calendar as part of my third place prize in the
StarCraft Mini-Campaign Contest
. Tragically, I got my calendar well after 2009, and so I have been waiting patiently for the stars to align, and for January 1st to be on a Thursday once more so that I could finally make use of it. Now, the time has come!
My calendar promises a "pwn-promising adversary" with "everyday offering a new challenge to overcome!". Naturally, I felt the best move was to share this calendar with everyone. So join me, friends, on an amazing adventure into the future, and into the past!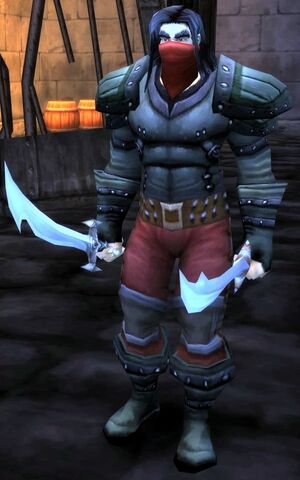 "Tell the warden that the prison is ours now!"
We start the new year off with
Bazil Thredd
. Because nothing says happy new year like an arrested criminal and rebel who's instigated a prison riot and taken control of the very facility meant to contain him. I think it says something about making the best of a bad situation, or taking control of your destiny or something.
So how's life going for Bazil Thredd these days? Well, he's probably dead, with his head cut off and handed in as a quest objective by adventurers. Since then, I think he's been replaced by Hogger? Perhaps we can all take solace in that no matter how bad your year has been, or will be, or had been, you probably didn't get your head chopped off and get replaced by a world famous gnoll.