So I decided to finally start playing around with GalaxyEdit the other day, and started off with something simple: A melee map. This has taught me many valuable lessons, such as how annoying water placement is.
Anyway, I wanted some feedback on the map layout before I get too engrossed in making my map look pretty.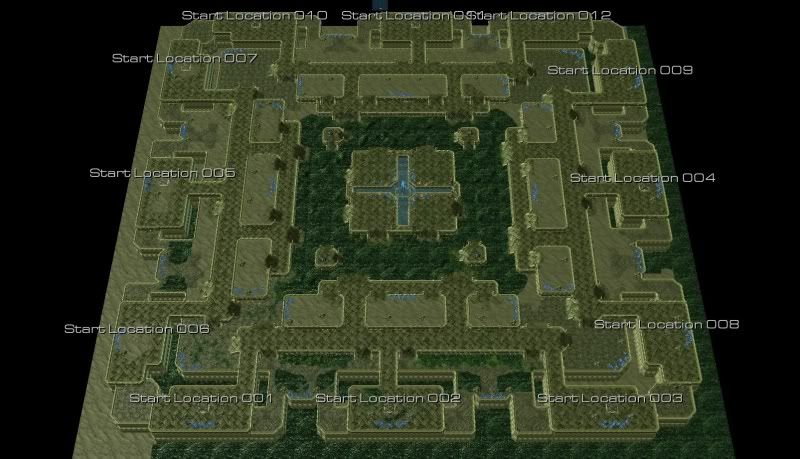 Forgotten Citadel v1.03
Since this is designed to be a FFA map, I decided to do away with the whole "natural expansion" thing, or at the very least cause some confusion in regards to who's natural expansion it is. I hope for this to cause more conflict, since I feel that is important in an RTS.
Everyone starts off in the outer ring, which is designed to be A Very Busy Place. The central platform has a smattering of Rich Mineral Nodes, and is otherwise a nice place to be. In the grassy area surrounding it, there are four Watchtowers on the raised platforms.
Things I am debating on doing:
-Turning the "Reaper Roads" in the outer ring into rubble-blocked ramps. I feel this would open up a lot more possibilities with them, as they'd be useful to units who weren't Reapers, Colossi or Stalkers once you cleared away rubble. If this were SC1 the Reaper Road would be all ramps (I liked maps where it was harder to defend). In SC2, however, bases tend to be a lot more squishy, so I'm willing to make things a easier to defend. If I do this, I'll connect the corner Reaper Roads to the main platform.
-Adding four more expansions to the grassy area around the central platform. They'd be at 12, 3, 6 and 9 o'clocks from the obelisk in the middle.