Topic author

Falchion

Zerg Broodling Dance Instructor

Posts: 620
Joined: Tue Sep 19, 2006 4:32 pm
Location: Bragança Paulista, Brazil (Da most borin' place in the world)
Contact:
Status: Offline
Before:

After:

First comment: MOAR BUTTONS!!!
Wait, just that? Awww



How I became a troll in a single post (And you can too!!!
): link
---
Xel'naga World Shaper

Posts: 8875
Joined: Sat Feb 07, 2009 1:40 pm
Location: M͈̙̞͍͞ͅE̹H̨͇̰͈͕͇̫Ì̩̳CO̼̩̤͖͘ జ్ఞ‌ా
Contact:
Status: Offline
Bigger, puffier buttons for all of the poor kids who can't see anything on their 8" laptops.
~[Gameproc]~
Warning: dialogue contains politically incorrect content. Viewer rearsore may occur.
---
Xel'naga Administrator

Posts: 6583
Joined: Wed Aug 16, 2006 5:21 pm
Location: His Ashworld Planet
Contact:
Status: Offline
I hate big buttons.
- - Lavarinth
Campaign Creations Administrator
---
Protoss Stargate Concierge

Posts: 1212
Joined: Sun Aug 12, 2007 12:42 pm
Location: Ontario, Canada
Status: Offline
But they're so friendly looking!
---
Zerg Creep Colony Landscaper

Posts: 408
Joined: Wed Aug 30, 2006 9:48 am
Location: Virginia
Contact:
Status: Offline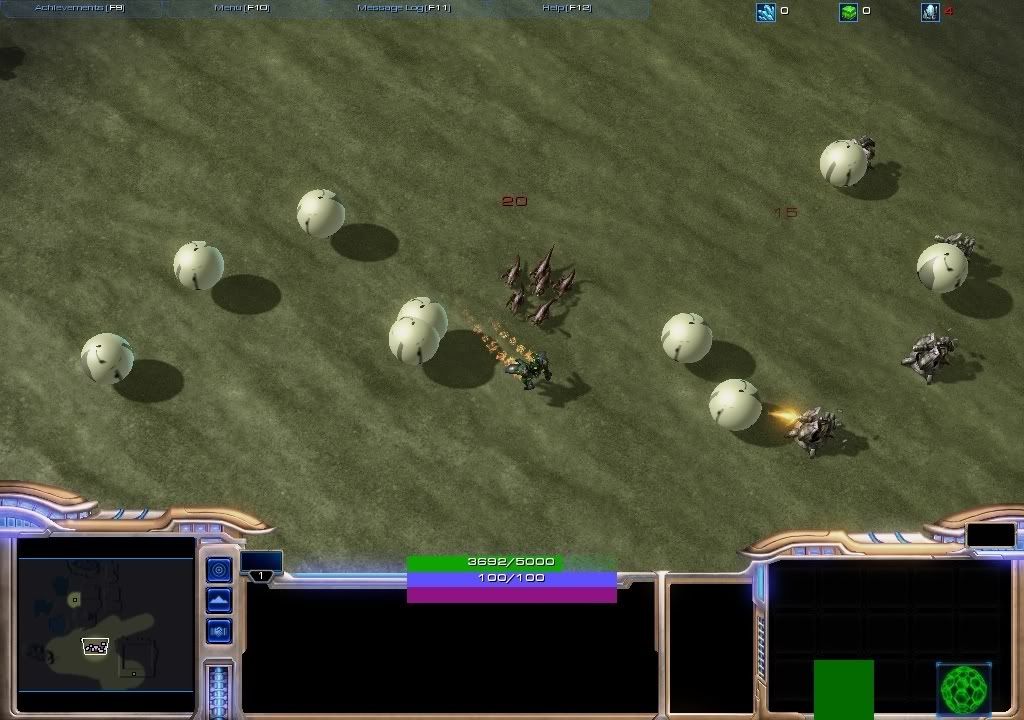 SOCCER BALL ATTACK
EDIT: Things are broken. Not just the fact that all of my projectiles became soccer balls. That green box in the corner used to be an image, like the one next to it, along with several others. But all of that was fairly easily fixed. All of my triggers seem to be in good working order. But my stuff in the data editor got screwed up. Most notably the mover effects I made for an attack, I made two, one for left and one for right. Yet somehow, when I opened up the data editor, there was only ONE custom mover, and it had the same name as the ones I made, minus the left/right. And all of the information was default. So great. I'm going to have to make that again. Other than that, things aren't so bad.
I had a custom ability using the Hunter Seeker missile, and now the animation for when it falls to the ground isn't attached to it anymore, I'll have to go and find where that went to.
Last edited by
Mr.
on Wed Jul 07, 2010 10:57 pm, edited 1 time in total.
---
---
Return to "StarCraft II Discussion"
Who is online
Users browsing this forum: No registered users and 1 guest