Shizuka really wasn't meant to have a Bounce attack for a long time; I'm just too lazy to change all the values to remove it (that, and the bounce attack will get messed up when you introduce Orbs too). It works fine with Missile (Bounce) with no bounces anyway.
I think quite a few characters have a longer range than their acquisition range. I believe the reason it was that low so they wouldn't auto-acquire every single thing that ran past them, which is probably the worst behavior.
And as for updating previous Books, I toy with that idea all the time I come up with new art. I actually sat down and did some decent art for Miranda for the first time in 8 years. Some of it is going to show up in Book 6.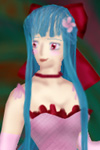 Miranda wearing a dress. Somewhat inspired by her idol persona.
Selene wearing a dress. Can't really see it in the avatar, but her motif is ribbons-- lots and lots of ribbons. In retrospect I needed to depict her more homely than her other outfit which is more of battle attire.