Mesk, you should play Demon's/Dark Souls. And everyone else for that matter. They are both pretty amazing. I think I would recommend Dark Souls over Demon's, though, because it's newer, and they made some improvements. As well as the fact that the multiplayer servers have been shut down for Demon's Souls. So I'm pretty much going to be talking about Dark Souls, but just about everything will also apply to Demon's.
It's a very brutal game. At least, until you learn how to play it, and figure out what things you should do and what things you shouldn't. So the difficulty is not frustrating, so much as rewarding. You aren't getting killed repeatedly because of some buggy attack, or awful camera angle, you're getting killed repeatedly because you're trying to fight a demon that's 20 times as big as you, and is on fire, and is eating your face. And when you finally kill it, it's satisfying, and you want to keep finding more giant things to get murdered by. Okay, Bed of Chaos is a shitty "boss fight," but other than that, they're great.
I also really like the look and feel of the game. I don't know if the textures are high enough resolution, or whatever, but the art direction is pretty damn great. All of the enemies you fight, the areas you explore, the weapons and armor you equip, they all look great.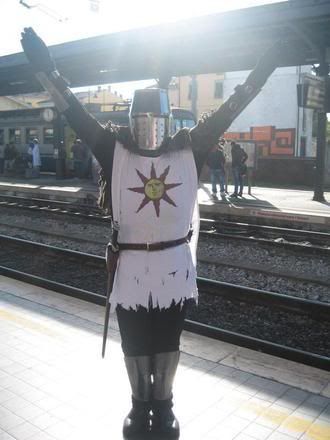 (Actual in-game graphics)
Anyway, it's a great game. A great variety of weapons and armor, which actually play vastly differently. Knives, straight swords, spears, claymores, greataxes, halberds, clubs, giant hammers... they all work differently and can be effective based on your character's stats and your abilities. I made three characters so far, the first was just a whatever character, I was playing the game for the first time, exploring everything, no particular specialties. But my second character was pure sorcery, and I did a lot of co-op multiplayer, helping people to murder bosses. My third character was a giant tank with a huge freaking sword, who enjoyed invading other players' games, and murdering them.
Oh yeah, the multiplayer. It's pretty fun. You can either let other players summon you into their world to help fight bosses, or you can force yourself into another player's world to destroy them or be destroyed in PvP.
All in all, I'd highly recommend this game, it is a very unique game. It is not without its flaws (lol Lost Izalith), but it is a very well-made game, created with lots of care. If you're tired of playing the same games over and over again, play Dark Souls.